Interview with me about Pussy Whipped Festival, April 2014, in The List
here.
Mine and my lovely Lukasz's queer live music club night Pussy Whipped featured in The List magazine - read it
here.
A wee pick from the Reykjavik Grapevine as a preview to my first Icelandic gig, April 2013....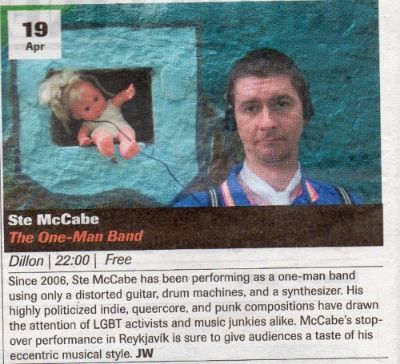 My song "Did You Really?" in
The Guardian
for Charlotte Richard Anderson's top ten tracks of the year. December 2012.
Do you understand Spanish? Good, you can tell me if
this
review from Vanishing Point in Spain is any good then! From December 2012.
Download Tom Robinson's
BBC 6Music mixtape
which features my song "Bargains Galore". From November 2012.
An interview for the lovely Fiona Ledgard's Anything Goes Breakfast Show on ALL FM Manchester from 08/11/12 can be streamed on Mixcloud
here
.
Do you understand Slovenian?
Here's
a piece about my tour gig in the beautiful town of Ormoz, with lots of pics and videos etc, November 2012.
A great review for Bad Kitty from Punk Online, from November 2012. Read it
Here
.
"Brimming with irony and up-tempo electro, it's an album I can find myself returning to again and again." Another great review for Bad Kitty from
The F Word
(comtemporary UK feminism). November 2012.
"Ste McCabe is angry, hilarious and brilliant. Most importantly, he gives a shit. It's time you started to give a shit about him too." That was a review of
Bad Kitty
by
The Line of Best Fit
, have a gander! Also the amazing
Tingle in The Netherlands
have written a very nice review for their blog. Both from November 2012.
Another great review of Bad Kitty by
The Sound Project
, the excellent "alternative to the alternative". November 2012.
Ace and delightfully strange review of "Bad Kitty" album by Bluesbunny (Edinburgh dwellers beware, he wants to bomb the City!! Oh, these bitter Glaswegians.) (October 2012)
HERE!
Great and fun review of my new album "Bad Kitty" by Loud Horizon (October 2012)
HERE
A preview for my Hawick gig from The Southern Reporter (October 2012) below...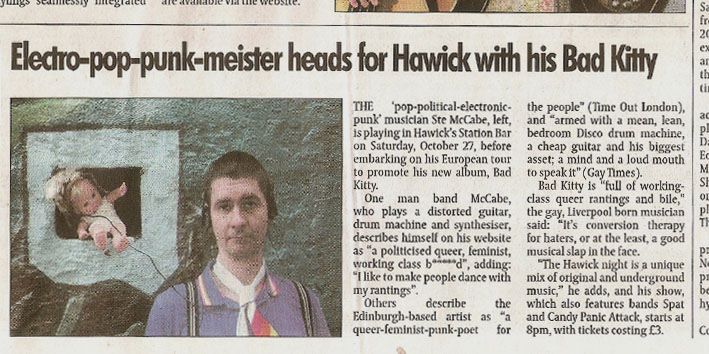 A great review by The F Word (that's the magazine of contemporary UK feminism - not Gordon Ramsey, he's a swine) of our queer-feminist festival Pussy Whipped (which I organised with my Lukasz) is
HERE.
(from September 2012)
An interview for Scottish queer magazine/zine Lock Up Your Daughters, September 2012,
HERE.
Och aye, our Pussy Whipped London night got into one of those trashy gay mags didn't it? From Boyz, August 2012...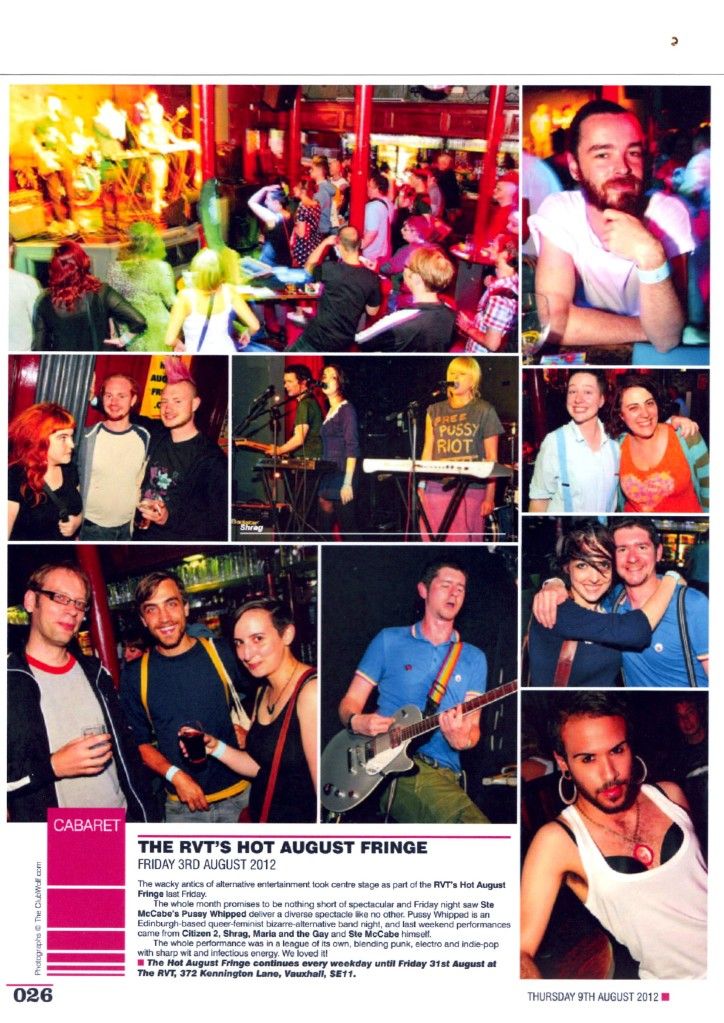 "Ste McCabe is THE person to listen to if you like to peepee in your pants!" An interview for Megapeng (August 2012), on the most gloriously colourful and crazy website you've ever seen!
HERE.
An interview with Artrocker (June 2012) where I chat about my next album, same-sex marriage and vile government people
HERE.
A nice write-up from GT (Gay Times) from June 2012 (preview to an Unskinny Bop library gig) is
HERE
Limbo live review from Voodoo Rooms gig in Edinburgh (Feb 2012)
HERE
.
Single of the week in The Sound Project for my "Accessorise" split single with the amazing Stella Zine
HERE.
November 2011.
A terrible and condescending review by Soundblab for my "Accessorise" download single
HERE.
Bad reviews are fun though, so head over and read it.
November 2011
Radio interview and live session for Suck My Left One radio show, Glasgow (October 2011) can be streamed
HERE
A nice live review by Ravechild from my gig with The Hardy Boys in Glasgow is
HERE
, from October 2011.
Interview for GFEST Queer Arts Festival as a preview for my performance in November 2011
HERE
A fun interview for Kitty Licks can be found
HERE
, from June 2011.
A VERY fun interview I did for One Way Ticket To Cubesville (long-standing punk zine from the North of England) can be ordered
HERE
. I'm not scanning this one for you to read, coz it's only 50p and you should all buy zines! But it's my favourite interview I've done in years, so there.
Live review from The Girls Are blog
HERE
Glowing reviews for my 2010 EP "Harrowing Breakdown" from Artrocker, Soundblab and Soundcheck Magazine are
HERE
.
Live Review by The F Word feminist magazine
HERE
Below - Two features from Artrocker, September 2010 - a full review of my night Queer Riot which was part of Hot August Fringe 2010, and an open letter to the Pope. I'm not sure if Ratzinger has Artrocker delivered to the Vatican, but it was worth a try...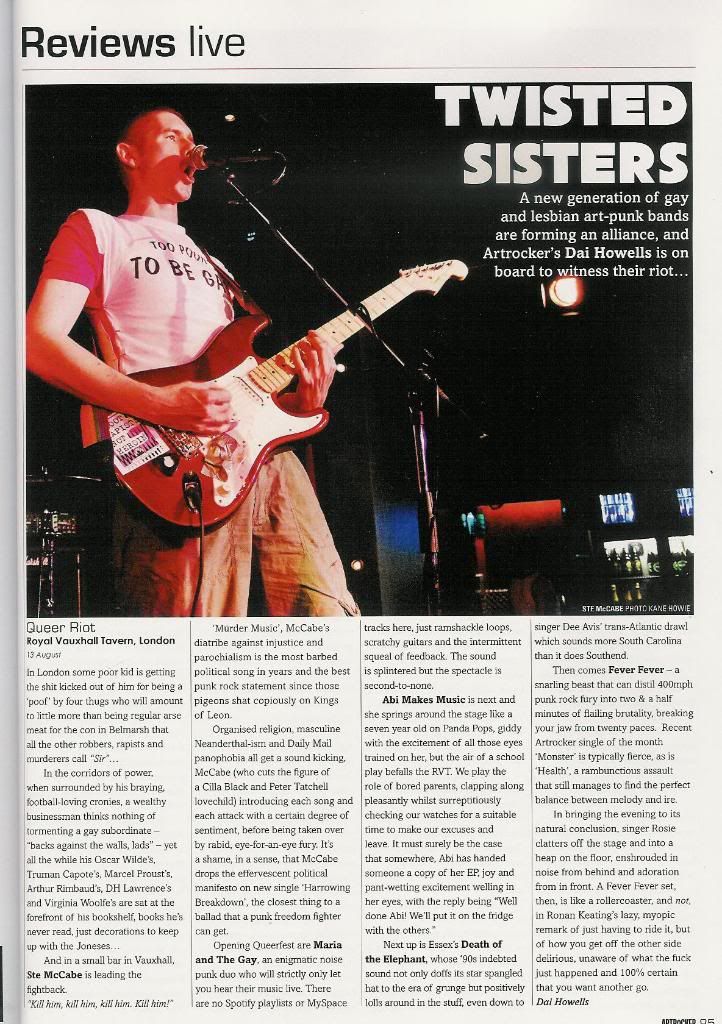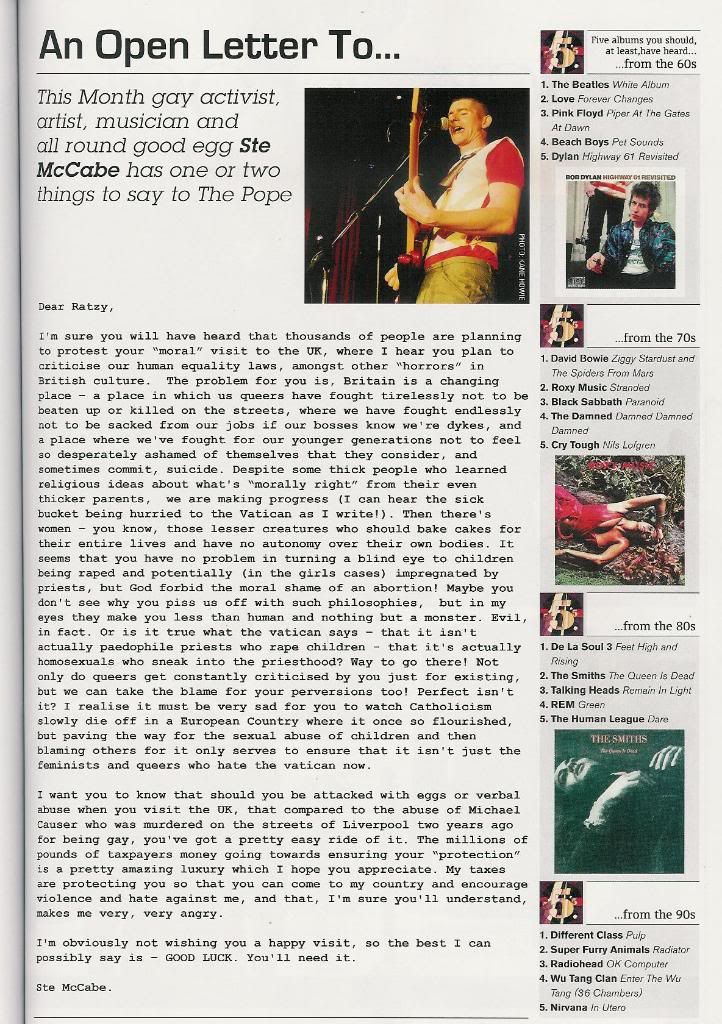 From QX Magazine, July 2010....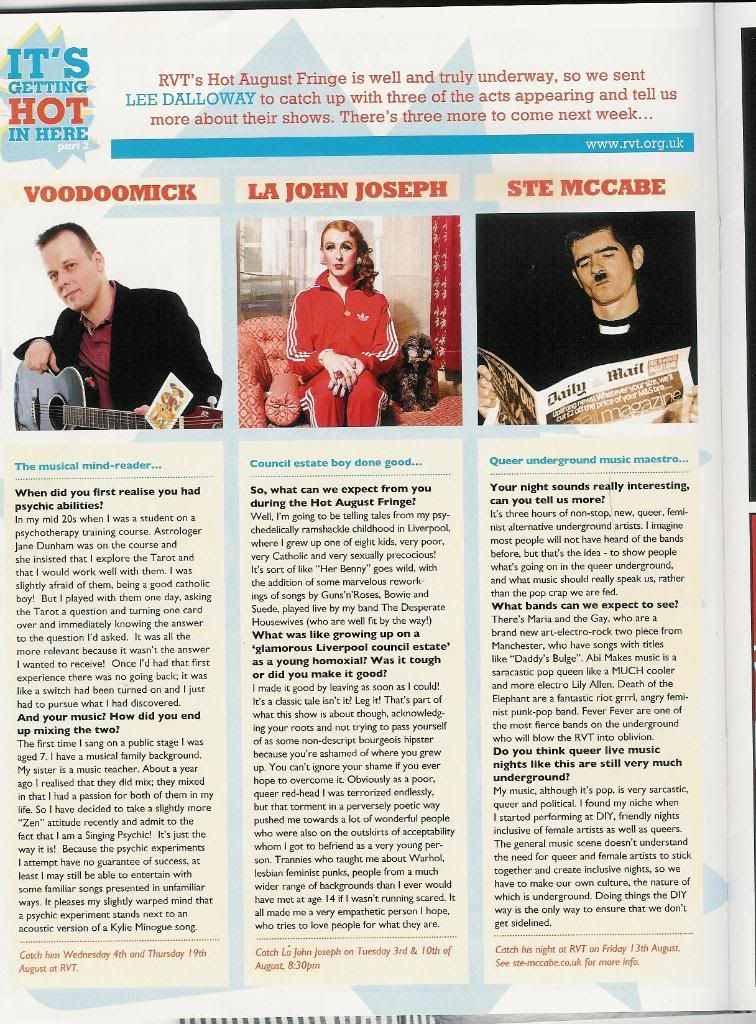 A very lovely and flattering write up by Johnny Trash (one half of Manchesters finest DJ due Trash-O-Rama) is
HERE
Below is an interview for Artrocker Magazine, from July 2010...
The Gospel of Ste McCabe
Artrocker.TV talks to the 'queer punk' and outspoken gay and lesbian activist that is Ste McCabe...
Filed in Ste McCabe, Interviews, at 11.10am on 12 July 10
Please state your name, profession and any subversive activities you wish to declare.
I am Ste McCabe, professional man of the queer dancefloor. Subversive activites are a-plenty and include the promotion of queer and female musicians on my radio show on Dandelion Radio, my Pussy Whipped club nights in Manchester, and most of all the angry noise which comes from my mouth, guitar and drum machines (collectively called songs).
The mainstream gay scene is percieved as a pop fanbase. Is that a dangerous stereotype?
No, it's absolutley true, which is why I have nothing to do with it. The mainstream gay scene promotes the same safe, generic dance trash and encourages people to think about nothing but their hair-do's. Let it rot I say.
In the artwork for your last album, you notoriously juxtaposed a photo of the Pope with Nazi imagery - what was the idea behind this, and did it land you in trouble?
My aim was to point out his hatred towards LGBT people and the violence and murder in many countries it encourages. Probably if he got a willy up his bottom, he would come out of the closet and stop being so bitter. I'm not volunteering though! Some people said I was unfair for comparing religious states to Nazism, particularly some Islamic ones, but targeting LGBT's for torture and murder leaves it hard for me to find pleasant comparisons I'm afraid.
You're about to put on a night called Queer Riot, as part of the Hot August Fringe Festival in London. What's the idea behind it?
There's alot of queer art being brought together as a part of the Fringe Festival. I often find at these arts festivals that the thriving underground queer-feminist music scene is either unknown or unwanted. That's where this event comes in really, to remind people that music is art too, and one of the most most powerful forms.
You've got one band playing, Maria & The Gay, who don't have any music on their myspace player I noticed. What's going on there?!
They are an enigma, and need to be experienced live! Their last gig in Manchester saw them crammed inside a small tent onstage. Only two members of the audience could get inside to see them perform, the rest just saw shadows playing instruments from the outside! They are pure art and need to be seen.
Also playing is Abi Makes Music, could you tell us a bit about her?
Yes, she is the sarcastic electro-pop queen of the queer scene. Some people have rather disgustingly called her the lesbian Kate Nash, I think she has a dash of Depeche Mode and a dash of Lily Allen, her lyrics are brilliant and ridiculous. She's a star.
You're on Cherryade Records, which I would describe as a sort of boutique DIY indie... label... is that an accurate description?
I think that's a great description. Their home looks like a Barbie and My Little Pony Boutique actually! Seriously though, I think the only thing Cherryade artists all have in common is that they are very different to everything else that's going on, and not many others labels would release us. For different reasons, myself and bands like The Lovely Eggs, Candy Panic Attack or Bobby McGess all make people go "Eh? What are they going on about?"
Do they have an office? Is there a contract you sign?
They live in Cherryade Towers, where the magic happens. There's pink plastic furniture and records everywhere! It's all very relaxed, no contracts, we release stuff when we have it ready, which suits me as my next release later this year will be my fourth in under three years - it's as busy or relaxed as the artists want it to be, which is amazing allows for genuine creativity.
Finally, and to paraphrase the Flaming Lips, if you had infinite power, what would you do?
I'd give the Pope a pair of breasts and his own transgendered butch lesbian to fondle them. He'd be so much happier, and it would make a great record cover.
QUEER RIOT TAKES PLACE AT THE ROYAL VAUXHALL TAVERN ON 13 AUGUST
From Time Out London, January 2010..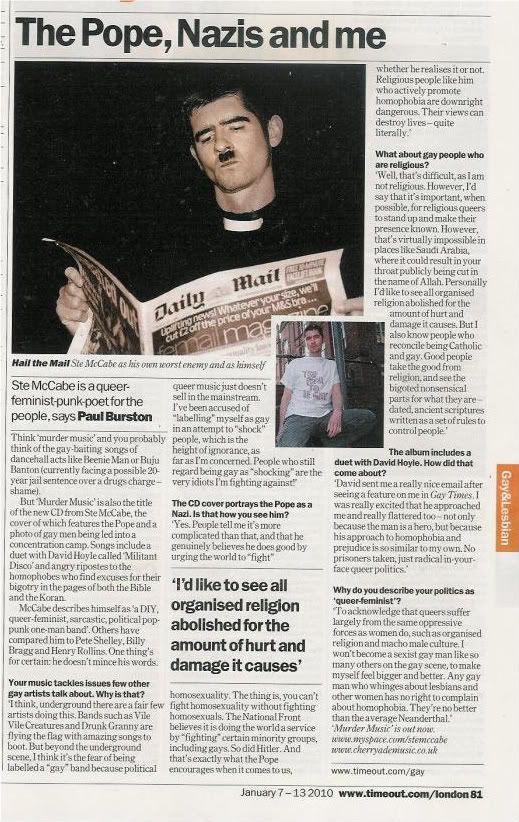 Interview for Indietracks Festival, 2009,
HERE
From Gay Times (GT), January 2009..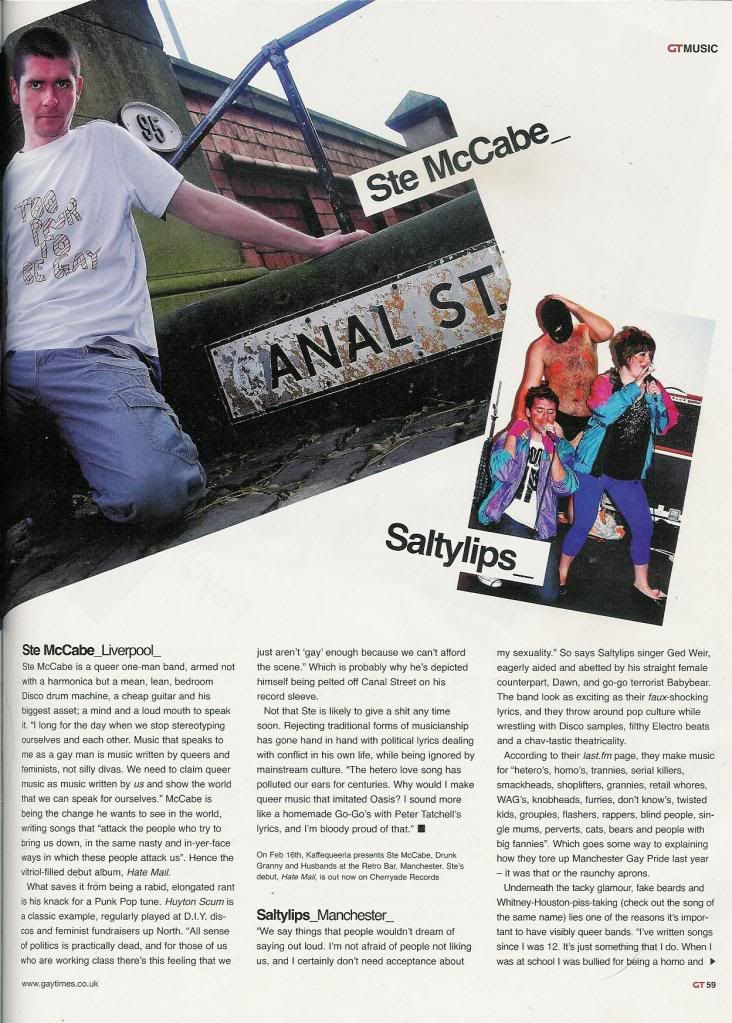 Interview for Manchester Evening News, March 2008,
HERE
From The World's a Mess and You're My Only Cure 'zine, 2008..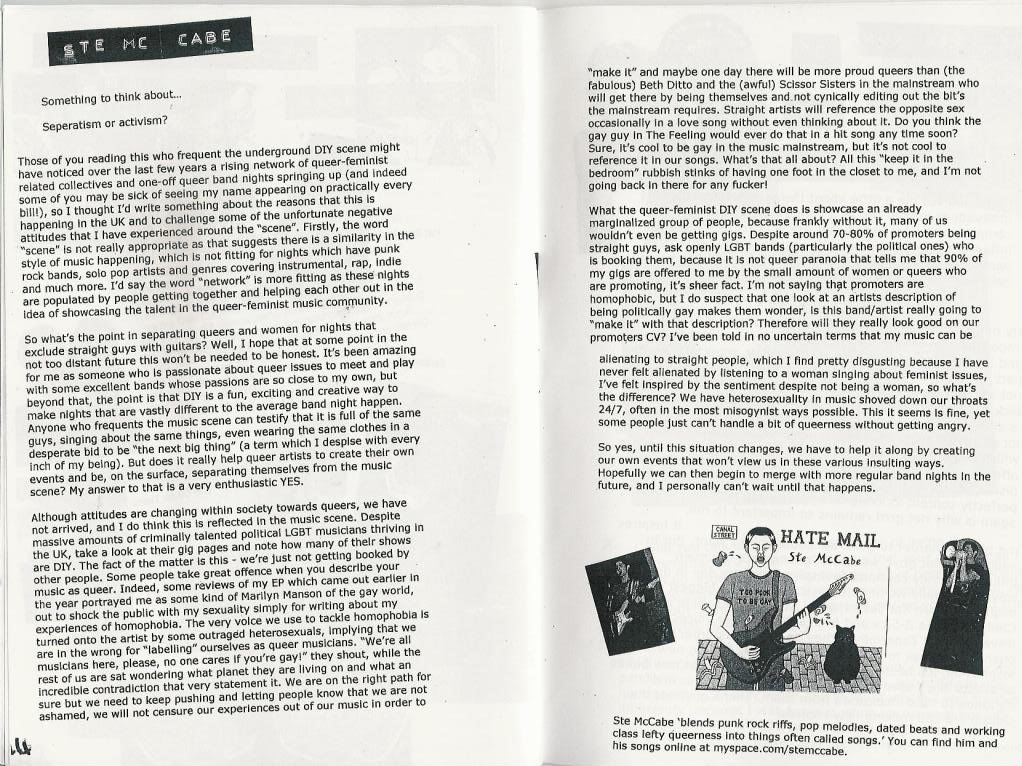 Interview for Gaydar Nation, March 2008..
Pink Bomb is the new, snarling, funny, righteous musical product from Ste McCabe, Manchester's brightest queer hope. A mixture of pop and punk, it's a lo-fi homosexual delight guaranteed to offend and delight your ears.

We tracked McCabe down because we wanted to know more, and this is what he told us...

What's Pink Bomb about?
Oh God, I barely know where to start. It's my little queer explosion against homophobic, classist, sexist idiots and just about everyone in between.
The first track, 'Huyton Scum', is an attack on the kind of character I grew up around. The kind of vile, self-centred, prejudiced imbecile who thinks by employing every single 'ism' into his world he will somehow gain respect. What this kind of person doesn't realise is that when you hate queers, women, every racial variation other than Caucasian, fat people, people with disabilities (you get the idea), there's no reason for anyone to respect you other than other emotionally retarded people like your sad little self.
I won't give an essay on each track, otherwise I really will go on forever, but 'See You In Hell' is my favourite track lyrically. It's a smug attack on the Church from a gay person's point of view, well, this gay person's point of view anyway! It's about how pathetic their cries of persecution are when gay rights go through it all the time. It's as if in their twisted world their losing the right to discriminate and make gay people's lives hell somehow makes them oppressed when they positively define the word "oppress" and have gone out of their way to make gay people's lives hell since the religion formed. Pathetic.
I use humour as a tool to beat my enemies in my music - I'm not preachy and don't use simple left wing slogans, I prefer to point the finger at whoever I am singing about and say, "My, aren't you stupid little boy?"

What does punk mean to you?
Erh, that's hard. The term punk means so many different things these days and most of those things are total shit. I suppose to me it means being yourself and fighting the systems that keep you down, whatever system that might be. I took much more inspiration from the feminist Riot Grrrl movement in the 90s than from early punk. I am a feminist and see a distinct link between gay rights and feminism, where there is the oppression of women you will usually find the oppression of queers too.
Feminist straight women along with gay men, lesbians, trans people etc are seen as a threat to the supposed laws of gender so I was, and continue to be, really inspired by Riot Grrrl as it speaks to me much more than some stupid punk outfits of today like Blink 182 who seem to think that exploiting women is somehow anti-establishment. Erh, that is the establishment you dicks!
And pop?
Mainstream pop music makes me sick. I love a lot of 80s pop, particularly the camp stuff like Soft Cell and Bronski Beat. Those bands had personality and actually said something, they were genuine songwriters who wanted to create and challenge. Look at Bronski Beat and what Jimmy Sommerville did and compare them to gay pop artists like Will Young. Actually I won't go down that road, sister! Believe me I'll be here all day!
I suppose my point is that I love pop music when it's genuine and listen to a lot of music for the thrill of shaking my booty, and why not? But at the same time I won't be brainwashed into buying Kylie records just because it's shoved down my throat, both on the radio and on the gay scene. I'd like to strangle Kylie, actually.
Tell us a bit about the queer/riot grrrl/DIY places where you play.
I have played some amazing, low-key gigs over the last year. The internet has opened up communication on the band circuit and I am playing for some great collectives who really believe in promoting gay and feminist artists who are totally not-for-profit.
There's a collective called Lola and the Cartwheels in Sheffield who put on regular band/music nights and the atmosphere is just perfect. Those people really believe in what they're doing. Also there's Manifesta in Leeds and Female Trouble in Manchester who are also doing some amazing things to challenge how both female and openly gay artists are pushed aside on the music scene and treated as novelty acts.
The gigs that I play tend to reflect my outlook and I'm always happier to play for someone like Manifesta than some shallow promoter looking for the next big thing and ways to line his pocket.
Heterosexuality in music is taken for granted as a normal thing to sing about (even the gay male pop stars sing songs to women, it's pathetic) but queers or feminists are treated as other artists and told to basically stop whinging and sing about something more everyday. My answer to that is, basically, kiss my arse.

What is it about Manchester that makes it such a fertile place for creative snarlers?
Maybe it's the musical history, although to be honest, besides The Smiths, I couldn't name too many bands from Manchester who have inspired me. The Manchester bands who do inspire me are bands on the circuit now, particularly Vile Vile Creatures, who play lesbian political disco punk.
I'm actually a scouser, but kind of an adopted Mancunian, I've been here long enough to say that. What I love about Manchester is the humour of the people here. I dunno, I'm struggling with this question. It ain't the glossy false gay scene here, I know that much.
What else would you like to say?
I suppose a little message to the readers who might want to hear more queer bands: don't look to the mainstream, it is heterosexist in the extreme. Queer bands and artists, of all genres including pop and hip hop as well as alternative and punk, who aren't ashamed of themselves and do not censor the queerness out of their music (Will Young is no longer closeted, but his music is) do exist all over the country and there are some amazingly talented, gutsy people out there, you just have to look.
Murder Music Reviews....
Below are all the reviews I am aware of for my most recent, 2009 album "Murder Music".
I don't believe in printing just the good press - the bad stuff is just as much fun....so do enjoy!
Firstly, a review from
The Skinny
in Scotland - liking the music but excusing the nasty behaviour of certain people as "complex" :
The only problem with Murder Music is its self-Godwination, to steal a phrase. Linking Christianity and Islam with Nazism, as per the cover art and non-musical interludes, is facile, and too problematic to dissect on a limited word count, so let's move on. The bulk of the album is McCabe's trademark blend of angry and witty queer pop-punk. Whether he's raging about homophobic murders, enthusing about cleaning toilets for minimum wage, or taking the piss out of overly macho idiots who deafen themselves with loud music in souped-up cars, his words are always accompanied by a catchy tune, liable to both lodge itself in your head and coax you onto the floor come the next queer dance party. He's got a winning formula, and his righteous anger strikes a chord – so hopefully next time he'll give more thought to the complexities of the institutions he critiques. I'll be keen to hear how that will sound. 4/5
Next, a nice short review from
Atomic Duster
:

N: An album in which Ste McCabe ensures that he is going to hell, in whichever faith turns out to be right. In his own inimitable fashion, he does it in a highly entertaining fashion.
T: Well even though it has its humorous side, the album appears to be a very serious attack on certain corners of society's views on gay rights. As you have pointed out, this is an explosive, and most enjoyable take on the matters. Often he comes across like an even camper Jilted John, but that's part of the appeal. 8/10
Next, my favourite of all. This guy from Tasty really hates me! He also completely misunderstood half of the album, but what can you do.
So... Whatever your political stance, yeah? Whatever your secret thinky thoughts about those who co-habit this planet with you, ah-ha? However it may make you physically wretch when some absolutely soulless, mindless, heartless, and fatuous twat sprays forth their deeply rancid bile about this group or that group, how they're the bad guys because of skin or sex. Surely, we cannot surrender our freedom to say 'oi, you are a repugnant little fucker and I hate every sentence your poxy mind strings together' in order to gag these simpletons in the first place? No? Just me?
Well, Ste McCabe would definitely disagree. Fight fire with fire, David Byrne once sung and Ste must have been soaking a dish cloth is gasoline when he heard that sentiment. Now, I once saw Ste McCabe, around ten years ago, when he played under the guise of Stephen Nancy. At the time, someone commented that Ste's core audience must be those militant right-wing homosexuals you hear so much about. The ones that reject all that liberal 'can't we just get on' bollocks and instead take the line of... well, let's look at the lyrics of Ste's first song: 'I wonder how people would react if we said similar things... the kinds of things they say about us... about someone like the pope, maybe? Something like KILL HIM KILL HIM (repeat ad nauseum)'. Ste's next song, Militant Disco, advocates the bombing of a 'Chavvy disco' as replacement for the usual 'silly protest' that is often the recourse of sensible and freedom loving people when they wish to react to something they may feel strongly about (yeah, I know, what the fuck are they thinking, ay?). In fact, McCabe essentially wants to see the death of everyone except for... hmm, maybe it is everyone.
I get it, Ste. Some people are horrible bastards. Some people have no respect for human life and the wonderful diversity that such a thing offers. And there's no excuse for them or their ideas, especially not for the violence they may do on to others. But your reactionary, politically under-cooked and rhetorically over-blown songs are verging on the insane, rooted in the ill-conceived. Mainly, because you don't seem to realise that a view or idea or opinion can't rape, murder, or torture. People do that, Ste. It's people. It's dickheads, Ste. I hope you don't sell any records, because I genuinely think that you're offering nothing but the kind of resentment and hate-filled tenets that those you rage against disseminate. And I'd fight to the death for your right to express it, I really would. I remember reading how the Democrats (I can hear you booing, Ste) had to rethink the language they used because they were always forced to use terms invented by the Republicans (yay, Ste, hawks aplenty). Thus, the Democrats (hissssss) were always waging war on the Republicans' (whoop! whoop!) field of battle. See, Ste? Change the diction and great things can happen. Using their words and their actions only cements their opinions. Just a thought.
Next, a short review from Gay Times, or
GT
as it's known these days. To the left of the page was Leona Lewis, to the right was Susan Boyle. I was the meat in a very nasty sandwich there! :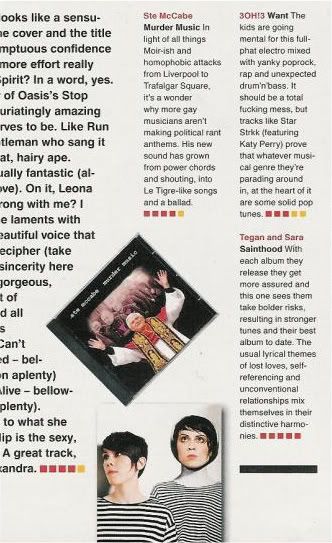 The following is from Artrocker magazine...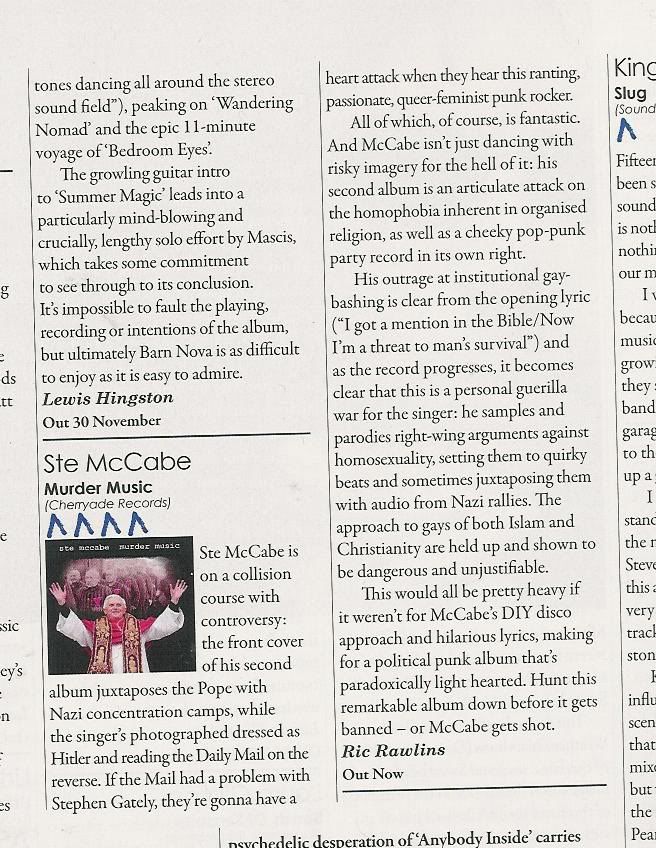 The following review is from The Devil Has The Best Tuna...
Ste McCabe
Genre: Punk / Electro
From: Manchester, United Kingdom
At a point in British history when homophobic attacks are on the increase, the leader of the BNP is appearing on the BBC, gay is a term of abuse in schoolyards across the country and 'pop' stars (and I use the term lightly!) are outing gay men in an attempt to smear them we need Ste McCabe, the one man pocket sized TRB for the noughties, and his angry new album 'Murder Music'.
Ste is his usual angry, passionate self sounding like
Shelley (the romantic punk singer not the English romantic poet) fronting an electro punk Crass. Religion gets a bashing as does Mick Hucknall, jurors and the Pope.
While the polemic can get a little oppressive at times and you find yourself yearning for an old fashioned Buzzcockesque love song to ease the tension, you cannot but help be caught up in his righteous anger. Check out the short, sharp attack on arrogant young, and probably homophobic, chavs of 'I've Got A Big Car' and the gay punk disco of 'Militant Disco' which sounds like a gourmet soup made from the Pet Shop Boys and Crass.
Now more than ever before is the time to sing if you're glad to be gay!
And here's the last, and rather dreadful, review from Unpeeled!....
STE McCABE: "Murder Music" (Cherryade Records)
RELEASED? Out now.
SOUNDS LIKE? A dude with an electric guitar and the worst electro drum machine in the world ever. Oh,
and a bit of piano on "I'll Spit
On Your Grave", a hate filled
ditty that seems to be aimed
at a priest, or maybe the pope,
or a next door neighbour
whose dog barks all night, it is
a bit ambiguous, though it
does have all the hallmarks of
Mr McCabes music, which is
out of tune singing, misplaced
sentiments and blind hatred
used to fight blind hatred.
IS IT ANY GOOD? Ghandi is
famously quoted as saying, "An eye for an eye makes the whole world blind." And from Ste's music I get the feeling that he would be quite happy if we were all stumbling around in the dark trying to find the kettle. There are some really serious issues tackled on this album, and they are tackled with fury, anger and sarcasm in varying degrees. It's just a pity that none of the righteous indignation has gone in to making any music worth listening to. And that's the crux. Political albums are like comedy albums, the music is often an afterthought, and that is what the music on this, Ste's sophomore effort, feels like. And the half arsed electro beats? They make me so angry I could beat up a priest, wear his clothes, stick on a hitler moustache and wave a Daily Mail at the closest camera, but I won't as that would be pointless and juvenile. Ste McCabe has a lot to say that I agree with, but here he has made music which I don't. It might be a balance thing, as Ste's fury goes up his song writing ability goes down. This is a punk album, and punk often means music that is made with passion rather than talent, and Ste does have passion, lots of it, it spews from his mouth much in the same way Snickers bars spew into school toilet bowls from the mouths of insecure girls with bad teeth, all he needs now is to write a good song with all that bile.

All other reviews for previous releases will follow soon....

Below are reviews for my debut album Hate Mail, released in 2008...
The first review is from Organ.....
STE McCABE – Hate Mail (Cherryade) - Hate male? Daily Mail? Smell of middle England giving you the fear? Family values rotting in hell? Ste is your man. Up front and confrontational about pretty much everything. Around here we love him! North West of England ranting queercore lo-fi wired-up punk rock. He sounds like Holly Johnson fronting a fractured angry Buzzcocks via raw Carter USM and dare you listen to something new or sit and.... One skinny looking man, one edgy scratchy skinny guitar, a fractured drum machine and a barbed line in relentless baiting just about everyone with his defiant lyrical feistiness. He don't like those Four Puffs on Jonathan Ross with their televised clichés and limp wrists and you can't help but smile when you see a song title like Four Puffs And A Shotgun. Nice version of Pet Shop Boys' Bedsitter and it isn't about fitting in or playing by the rules (or indeed breaking the rules) or conforming to the stereotype. Proper raw punk rock laced with positive anger and a welcoming smile and a little more than scratching each other's eyes out. Ste McCabe is a national treasure, call the Daily Mail and ask them where their review is, excellent album – www.myspace.com/stemccabe or www.cherryademusic.co.uk
Next by Russel Barker, journalist for various music publications, from his own website...
Ste McCabe - Hate Mail (Cherryade)
A shock of the new from Manchester, Ste McCabe's debut album delivers handsomely.
I mean, as an opening track 'Queer Clubbing' is like a camp Art Brut, which is a wonderful thing indeed. Hot on it's heels comes 'Hate Mail', which is a thundering fuzz pop tune, somewhat like Buzzcocks and 'I'm Not Bitter' which carries on the lineage of fast, feisty pop, garbled lyrics and sniping while sounding fun. Then you have gems like 'Huyton Scum', which sounds like it could have come from some weird alternative version of Grease.
It says how good an album this is that the 'Bedsitter' cover is one of the least interesting things on here, although it does fit in with the theme of the album though. 'Rant (By The Seaside)' diversifies things somewhat, being a ukulele lead Bobby McGee's style thing. All I can say to finish is that you should get this album, if you like nasty fun.
Next from Shadowplay - destroying the Cherryade roster, haha!
Now there's pretty much no-one on the excellent Cherryade Records that I dislike however I have to admit that Ste McCabe is out on his own as he just grates grates grates. I hate music which puts statement before sound, that's what printed press, television and the internet are for. Now let's get this clear, I'm not gay, I'm not homophobic and I'm not naïve to the fact that homophobia still exists in this country however I think that largely, especially in the music scene, it is more than accepted. So to produce most of an album shouting about homophobes and idiots becomes waring and tedious. Ste just attacks his guitar all the way through it, the riffs are not bad but his voice isn't the best at holding a note. More consideration to the music than trying to shock would be my preference, a blemish on an otherwise perfect roster.
"Is This Music" Review....
If you are not familiar with Ste McCabe, he's a man on a mission. Fed up of negative attitudes and behaviour towards homosexuals, McCabe focuses most of his lyrical content (and album artwork) on this stimulus.
It feels bad that I'm giving this a bad review then. It's difficult to review something like this, a bit like reviewing a feminist band that are terrible, it's not because of them or their cause, it's for the music. And it must be pointed out that it's the MUSIC I've got issues with. Comprende?
Actually, to be fair, this album's got a really good song on it. A really, really good song. 'Queer Clubbing' is a short, catchy and likeable punk track. Unfortunately, the rest of the songs sound the same. Drum machine? Check. Vocals too low in the mix to make McCabe's interesting lyrics inaudible? Check. A strictly limited amount of guitar chords? Check.
You know something's wrong when three songs effectively have the same drumbeat. You know something's wrong when an outspoken ambassador for gay rights can't be heard over his guitar. The production's all wrong and there's just not enough to maintain interest. I thought the point of this music would be to raise awareness of the issues at hand. To showcase punk attitudes. To give a massive 'fuck you' to homophobes. Unfortunately, it doesn't do any of that, and the end of the album is welcome.
Ste McCabe is capable of much better than this. This is shown in 'Queer Clubbing'. Unfortunately, the standard isn't carried through the rest of the record. Disappointing.
Review from Gaydar Nation (by Bree Hoskin).....
Ste McCabe , the man responsible for what he calls February's "little queer explosion against homophobic, classist, sexist idiots", aka the punk-pop EP Pink Bomb, is back with his funny and fierce album Hate Mail.
Sharp, raging opener 'Queer Clubbing' immediately sets up his point of view on what he calls "the land of stereotypes" and how it plays into the oppressive attitudes of the establishment: "I don't wanna disco dance…when you speak to me, don't try to patronise". McCabe adds that he's never been "a fan of misogyny", which is in keeping with his view that gay rights and feminism are often inextricably linked. "Where there is oppression of women you will usually find the oppression of queers, too", he has said. "Feminist straight women along with gay men and lesbians are seen as a threat to the supposed laws of gender".
In turn, I felt a real connection with McCabe's music. 'I'm Not Bitter', a track about men who use and abuse, draws attention to cock-proud "men with their hands in their pockets, think they can buy you with a double vodka". With its messed up beats, distorted vocals and urgency, this is a punk-pop rendition of what Simone de Beauvoir laid out years ago: "The most mediocre of males still feels himself a demi-god as compared with women".
McCabe continues the sentiment with humour that hits hard on a nerve: "Men who are so proud of their cocks, well guess what? I've got one, too!" McCabe explains that he uses humour "as a tool to beat my enemies in my music", and this woman - who's spent many a night dealing with cash-flashing, cock-sure men who assume I cost the same as a vodka tonic - certainly appreciates it.
Hate Mail's title track is also wickedly funny as it deals with the readers of the Daily Mail, with McCabe snarling, "You've got style, I must confess, for a pretty little Hitler in a floral dress", while 'Four Puffs and a Shotgun' has McCabe committing to kissing "the straight guy's arse" with "a limp wrist and a shopping list".
Equally poignant yet musically pared down is the acoustic 'Rant (By the Seaside)', in which McCabe relays his life story, starting with an episode in which he runs away from a football and going on to describe how teachers turned a blind eye when he was bullied at school. He admits it's "not an unusual narrative for a gay boy in a backward town", but the rawness, honesty and subject matter of the song is certainly something different and fresh on the music scene.
Oh, and you can dance to the album, too. So what more could we want? Not a lot, that's for damn sure - it's pretty much got everything to both incense and excite.
A weird one from God is in the TV....
Ste McCabe is gay, he doesn't like certain people's attitudes, and he wants to shout about it. Fair enough. It's not the references or subject matter that grate here, though, it's the sounds. That yelping voice of his, that blast of angry guitar. Buzzsaw guitars and rallying cries, handclaps, kitsch keyboard beats, and wry lyrics, kind of in the vein of Helen Love, only minus all the glittery smiley fun.
I'm quite the fan of Cherryade Records (to which he is signed), a really great little independent label that has some fun punky pop bands on its roster, like being transported back to Radio One's Evening Session circa 1995, when bands like Vyvyan and Angelica would sing about discos, cider, broken hearts, and going out. In fact, the label have signed up the new incarnation of Angelica, featuring Holly Ross and going under the moniker of The Lovely Eggs, who are rather ace indeed, but I digress.
I can imagine John Peel would've played Ste McCabe's records on his show back in the day, and as soon as the scree of garage band electric guitar cut out to signal the song's end, he'd probably quietly and wryly and a little shyly have said: That was Ste McCabe. Well, he's an angry young man. And that's about all I feel moved to say about him too. Maybe there's a place and an audience for this sort of thing, Ladyfest comes to mind. But like listening to spoken word lady Penny Broadhurst witter on about waiting at the bus stop in the rain wishing she was eating a bag of chips with Alan Bennett, listening to Ste McCabe across an entire album is just not very interesting or inspiring.
The Devil Has The Best Tuna Review....
The North West of England has traditionally been a citadel of anti authority, non conformist politics. It's therefore no surprise to find that angry, political, homophobe baiting, pro feminist, queer pop-punkster Ste McCabe hails from Manchester.
His latest album 'Hate Mail' (Cherryade Records), a full on blend of pure punk guitar and a snippy, snarling, sarcastic world view, marks Ste out to be the Billy Bragg, or possibly even the Henry Rollins, of gay politics . The albums 11 tracks of short sharp gobs of spittle flecked vitriol hover in the hinterland of The Buzzcocks and Jilted John reimagined as a gay activist.
The brilliant 'Huyton Scum' is a witty diatribe about a racist, homophobic, sexist idiot, 'Four Puffs & A Shotgun' is a long overdue pop at the over rated and over paid Jonathan Ross and his overly camp band of gay uncle toms, 'Rant (By The Seaside)' describes the life of a homosexual growing up in a small, in mind as well as size, town while the ironically titled 'I'm Not Bitter' is a bitter, bile spilling 'fuck you' to a former lover.
As you can gather 'Hate Mail' ain't an album of cheerful ditties to help us forget about the world problems for a while. It's a full on confrontational album promoting a world view that get's far too little coverage in a music scene where the ugly, regressive, misogynistic cock rock of AC/DC is lauded in the NME (that's NEW Musical Express!!).
Ste won't be getting many invites to join the Conservative Party and I think I can guarantee that he won't be selling many copies of the album in the American Deep South.
Atomic Duster Review...
Ste McCabe specializes in tunes that fire at his audiences short sharp abrasive measures of sarcastic venom. Borne out of Manchester, it would be easy to reference that of the Buzcocks, but that's exactly where Ste McCabe is starting from. With upfront guitar and a beatbox, Ste rides roughshod over all preconceptions of how queer punk should sound. Those who ever crossed Mr. McCabe in his former life are now hanging their heads in shame, as in his lyrics he would appear to remember all, as he goes at them with a cheese grater, in a musical sense of course. In this, his debut album, where not only do the Buzzcocks meet Soft Cell, but he marks up one for the underdog. Both insanely catchy and well observed.
Soundcheck Magazine review....
If I was reviewing album cover art instead of album content, then this would win hands down!! I love it! Its one of those covers that I would love to have up on the wall....a great piece of pop art.
Ste McCabe is something of a mystery to me....I'd never heard of him or his brand of 'bedroom-budget-low-fi' music, however, this is just what I needed to land through the door of the editorial office. This is almost Pete Shelley-esque in it's delivery and urgency, cleverly penned social commentary, with heavy punk-pop undertones and easily danceable beats.
Stand out track on the album is 'Fire', an upbeat rocker that the aforementioned Mr.Shelley would have been proud of. 'This Is Not Your Party' reminiscent of early Velvet Underground and the wonderful 'Joy Division' like 'bedsitter' are worthy of a mention too. This is one for the car stereo guys!
Gay Times Review....
Take a drum machine, guitar and overdrive pedal. Add one angry, working-class gay scouser, leave to simmer in years of smalltown homophobia and Viola! - the result will be something like Hate Mail, both heartbreakingly vitriolic and endearingly shambolic. McCabe makes bitter lo-fi bedroom disco, laced with scathing lyrics like, "He don't like the queers, queers make him sick, even the ones he forces to go down and suck his dick." If you like anti-assimilationist queer theory and Helen Love, you'll spunk your pants. If not, there's a new Girls Aloud album out...
Penny Black Music Review....
Earlier this year, I reviewed Ste McCabe's debut EP 'Pink Bomb', and it was hard to write that review without mentioning Wales' finest, Helen Love, a comparison that I was far from alone in drawing.
Now Ste's back with his first album,'Hate Mail',and it's basically more of the same, which might sound a bit negative, but it's not. The EP was a nice slab of queer electro punk pop. It's always nice to know what you will get when buying a record. Some of the best tracks on the album include the chant-like 'Broken Record', the title track and 'Huyton Scum', a song that was also on the aforementioned EP.
If you like the thought of the Ramones using a drum-machine and singing about gay rights, this will be definitely your cup of tea! If not, you still ought to give it a try...
Below are reviews for my debut EP "Pink Bomb", released in February 2008, which has now sold out.....
-->
Artrocker Review....


Ubercool indie label Cherryade release this debut EP from Manchester's 'Queen of queer punk'. And as Ric Rawlins reveals, it's a drum machine driven ride through some supercharged pop music...





It's a cliche that Manchester's Ste McCabe is happy to casually piss all over with this, his debut LP of "kiss my ass" techno-punk pop songs.





In his photos he looks like the kind of guy that would glass you for dissing his football team, or perhaps play an Orc in a Lord Of the Rings sequal. And despite a slightly Ziggy-esque vocal affliction, his music is equally as cruel, unforgiving, and demonically fun.





It starts as it means to go on, by deflating prejudice. 'Huyton Scum' aims it's sniper fire at a 'hard nut' who can't understand why lesbians won't sleep with him, like the porno mags promised. It's a relentless pisstake that highlights the repressed double standrads of homophobes: "He don't like the queers, the queers make him sick / even the ones he forces to go down and suck on his dick."





Between pop songs and catchy choruses, things become notably darker with 'See You In Hell', which throws up imagery of burning churches, destroyed livers and the angsty chant of "Change the record!" It has the feel of an early Manic Street Preachers track, twisted with anger and propelled by fast beats.





McCabe jokes on the sleeve that people keep telling him to "get a proper band" - and it's true, this record sounds like it was an entirely solo effort. However, the lo-fi fuzziness has a kind of Red-Bull style shock appeal, and together with his lyrics go towards making a short, sharp bullet of a record. Mccabe is kicking against the pricks - and declaring homsexual cliches bankrupt.





Gaydar Nation Review by Charlotte Cooper.....


Pink Bomb is Ste McCabe's debut release, an EP of truly independent music put out by the glorious Cherryade label. It is the freshest, funniest, angriest music that has passed over this reviewer's desk in a very long time.




It's doubtful that you will have heard of McCabe before now, so let's introduce him. McCabe is a solo performer who's been described as Manchester's Queen of queer punk, which would be about right if queer punk supported a monarchy. McCabe is more than any of those labels, of course, his music also encompasses messed-up beats, weird Le Tigre-style distorted vocals and too many pop culture references to name here. You can even dance to it. Queer punk also seems like a reductive term for the rich underground music scene, also known as DIY, Riot Grrrl, or queercore, that has been supporting him for the past couple of years, whose values and aesthetic informs what he does. It's really exciting to hear British queer music that does not evade the realities of queer life, it is validating and offers listeners a sense of possibility, that music can be something more, you could even call it soulful. 'Huyton Scum' is a sarcastic song baiting bigoted men for their homophobia and hate and includes the line. "No one loves you." 'See You In Hell' is about religious hypocrisy and 'Selling Beauty' a critique of the beauty industry. None of the songs on Pink Bomb portrays gay people as passive victims, even 'Rant' is full of energy and bile, but instead McCabe offers a view of queer life that is politicised, mouthy, knowing, intelligent, poetic and as angry as hell. This is no finely-crafted, over-produced background music. Be warned, it will shred your ears - but in a good way! McCabe sounds a bit like early Buzzcocks, mixed in with Billy Bragg - back when he had something to say - and a touch of the sardonic lyricism of a Mark E Smith. Sometimes you wonder if McCabe's anger will eat him up whole, he sounds apoplectic with rage, but he always manages to temper it with humour, he never gives in to it completely. He's got a gigantic chip on his shoulder, but he's funny and righteous with it too. Perhaps one of the reasons why it's so hard to put McCabe in a box, not that you'd want to, is that you're very unlikely to hear this kind of music unless you actively go looking for it. Mainstream record companies are not interested in angry, ranting, feminist-identified queer men, especially not singers like McCabe, who couldn't be less like a glossy, good-looking, unthreatening gay pop star. Perfectly titled, Pink Bomb is like a musical explosion, blowing away conformist consumerist pap and attempting to show the grittiness of real life. What's more, Pink Bomb is available for a measly four quid from the Cherryade website. That's less than a pound per track! Alice Horton's intense, beautiful and colourful cover art is included in the price too. Believe me, this is the best money you will spend on music for the foreseeable future.




Is This Music Review....


In an age where punk music has largely become watered down, commercial, chart-friendly and about as far removed from politics or real people's lives as you could possibly get, it's a relief and a joy to hear someone like Ste McCabe.




The brilliant 'Huyton Scum' is a witty, thrashing picture of someone of a racist, homophobic, sexist idiot, 'Rant' is about growing up as a homosexual in a small town, while 'See You in Hell' is a bile-spitting tirade against the hypocrisy and irrelevance of the church.




Manchester-based Ste McCabe is a proper punk, with proper songs, proper catchy melodies and Johnny Ramone style guitar.




While it seems that any band signed to a major record label that plays fast, loud power chords on guitar can be a 'punk' band, Ste has brought back the DIY ethic. Just him and a guitar and a drum machine can make a hell of a lot of noise and a hell of a lot more impact than a lot of the shite that passes for punk at the moment.





Gay Times Review....


Fab lo-fi queer bedroom punk, like Jilted John with political awareness berating a bigoted chav over a cheap drum machine. Perhaps not one to play while the boyf's parents are round.




Atomic Duster Review.....


T: Ste McCabe is Manchester's political queer pop-punkster. That's not me being homophobic; that's what it says in the press release. It's an appealing set of tunes not far removed from the idea of Plastic Bertrand performing songs by The Ramones. With an iherently gay twist of course. Highly amusing. In fact it's probably what Jilted John would have turned into if Graham Fellows had followed that persona through.





N: Makes a change from Erasure! It is probably the best thing we've heard all day (excepting of course the already familiar 'Juno' soundtrack). Steve's approach could be described as Marc Almond performs 'punk' and the lyrical content is both possibly biographical and quite refreshing for it. 8/10





Organ Review.....


SINGLE OF THE WEEK




STE McCABE – Pink Bomb EP (Cherryade) - Ste's finest release to-date, his releases are always good – right back to the very home-made raw-as-hell Stephen Nancy demo days. "Manchester's Queen of queer punk" heralded the Manchester Evening News – and how right they are – infectiously catchy ranting riot-boy punk pop and no hint of any compromise yet (we didn't expect there would be!). Snarling sarcastic biting and homophobe baiting angry bite bite bite - "Pro-feminist, anti-church". Angry pop music, not so angry that it isn't fun though. He's actually a Scouser, bit of a Holly Johnson voice (he'll probably rage at us for saying that!), he's got a massive chip on his shoulder – and we wouldn't want it any other way, he's a positive hero... and he's got the sound and production nailed down just right now – a fine balance somewhere between raw lo-fi and studio polish. – imagine a one man ranting DIY queercore punk rock riot with a drum machine and a hint of Morrissey and a large slice of Buzzcocks or maybe a bit of Carter USM along with some Bikini kill/Vile Vile Creatures attitude and songs that just get inside your head and make you smile (well OK, they may not actually make you smile that much if you're a Daily Express reading Tory homophobe or your name is Tommo). www.myspace.com/stemccabe or www.cherryademusic.co.uk





Russel Reviews.co.uk Review....


Ste McCabe's new EP 'Pink Bomb' is out on Cherryade and quality as you might expect. 'Huyton Scum' is snotty punk pop, like The Toy Dolls with less twee vocals. 'See You In Hell' is like the final throws of punk and 'One Step Too Far' has a frazzled lurch about it, a




bit like a slower version of early Pop Will Eat Itself. Short, sharp and to the point, just the way we like it.





Unpeeled Review.....
Single of the month
Sounds like? Jilted John stalking Plastique Bertrand, flinging old Buzzcocks singles like ninja stars, every one bang on target. It's all fuzz, sparks, back beats, casual but loving and offensive stuff for the humour free.
Is it any good? It beats the hell out of Billy Bragg for social commentary and it's well up to Matt Dangerfield post-punk standars, especially the gorgeous "Rant". So, really Helen Love with her boots on.



Penny Black Music Review....


I actually haven't read any reviews of this five track EP, which is also the debut release from Ste McCabe, a Manchester guy who's been playing at many different gay and riot grrl events for the past few years in his native UK. I'm pretty sure, however, that someone must have mentioned Welsh all girl trio Helen Love when drawing comparisons. If not, I will eat my entire record collection! That's how sure I am!




The first track, 'Huyton Scum', kicks off with a steady beat from the drum machine, and then blasts off with a wall of distorted guitars and Ste's voice, that sounds very much like the vocalist of Helen Love (who is called simply Helen). The only big difference is that Ste is writing lyrics about homophobe-baiting and feminism, while Helen mostly writes about meeting members of the Ramones and other punk boys.




I have to say that I find McCabe's views of the world much more appealing, and the lyrics on 'Pink Bomb' are great ! The songs aren't too bad either, and this is a really promising debut. But I do wonder if it would be just as good if it was an entire album.




NB : By the way… I had to check and see if anyone had mentioned Helen Love in any review, and yes! I was right! So, I'm keeping my record collection…





Losing Today Review....
Ste McCabe 'Pink Bomb' (Cherryade). Apologies to all concerned - it seems this blighter kinda got lost in the mounting CD pile in our gaff and with that got criminally overlooked. Been a fair old while since we had any Cherryade action doing the business on the hi-fi. Release number 15 for the imprint that brought us Steveless, Listen with Sarah, Tall Pony and the Candy Panic Attack to name but a few in recent memory return to disrupt the airwaves and ruffle the record racks with this - the debut release from baiting punk pop queer Ste McCabe. Five tracks - 10 minutes in total duration is what you get. Mr McCabe has been ranting, raving and ridiculing just about everything in sight since stumbling upon an embracing nascent DIY punk scene some two years ago. Politicised, un-pc (especially on the viciously uncouth 'Huyton Scum') and impishly sarcastic this quintet of non nonsense, stripped to the bone, razor sharp bitches are laced with crudely impish affection and metered out with a cheap snotty bargain basement styled mentality that makes the New York Dolls sound positively high spec. Sitting sound wise somewhere between a beat driven techno punk puking buzz sawing Plastic Bertrand - that is Plastic Bertrand with a shit load of Ramones attitude and an unhealthy wannabe fixation for the Shangri-La's, McCabe scowls through the set in the blink of an eye at times sounding like a seriously minimalist Buzzcocks with a shed load of baggage (especially on the oblivion pop of 'see you in hell'). Whatever shortcomings in terms of technique and delivery that are laid at McCabe's feet there's no questioning the spirit, each of these cuts are laced acutely with hyper hook laden teen angst and decoded with fizzing bubblegum pyrotechnics with superbly coalesces on the parting caustic candy pop cutie 'Selling Beauty'. You have been warned. www.cherryademusic.co.uk



Culture Deluxe Review...


Mancunian lo-fi punk-pop revivalist Ste McCabe has issues with everyone it seems, but especially with 'Thommo' the eponymous, hard nut, anti-hero of 'Huyton Scum' - a cumulative caricature who 'hates gays except the ones he makes suck his cock', would vote BNP if he knew what it was and even hates his family due to their age, weight and mental prowess (and that's me toning it down somewhat). This lead track brings to mind the cartoon punk schtick with a message of The Buzzcocks or Sultans of Ping FC but the production and lyrics come up somewhat short of either. Neither can it be considered a 'Jilted John' for the noughties featuring none of the charm of Graham Fellows' most celebrated music moment.




Elsewhere on the disc, 'Rant' sounds like McCarthy demoing on a tape machine around C86, 'See You In Hell features some great Martin Hannett style production overdubs and 'Selling Beauty' is musically the strongest track on the EP, despite its lack of lower frequencies and length.





Shadowplay Review.....
Our round up wouldn't be complete without an appearance from our faves Cherryade Records but for the first time I think they might've just missed the mark. Although 'queer pop-punkster' Ste McCabe offers the necessary edge, different quality and rawness that they usually offer in their quality pop but I just think there's just not enough to enjoy here. Yes he's weird and different but the point is pedalled to the point where you just don't care on this, the Pink Bomb EP. I'm not writing him off, just more than attempts to shock would be nice next time, oh and a tune.



Noize Makes Enemies review....


There's ways and ways of doing social commentary. It's probably best to listen to this as if it were a limerick so as not to hand it on a plate the clearest evidence of a lack of quality control caused by the internet: "He would love his brother if his brother weren't a spazz/He would love his mother if she weren't so fucking fat". Hilarious stuff, isn't it.See the thing is, the expiry date on this sort of half-arsed 'punk' backing was way back in the aftermath of 'Never Mind The Bollocks'. Who says that you need to back up opinion with such dross? Isn't it a given that providing air space to the brandings in society is so as to entrench them, and to further deep-seat your own so-called minority idiosyncrasies? Note to Ste McCabe: 'If you want a more egalitarian humanity, maybe it'd be a wiser idea to stop with the constant labelling. Sensational isn't it that you're gay? Wow.' Get over yourself.So: this is not a statement. It's not funny. It's a series of irksome clichés It's Green Day and Blink 182 for the even more socially inept. Anything else? Oh yeah, and it's cringeworthy rather than snarling. McCabe plays the victim, telling us all something we already know in a gratingly insatiable way. Avoid at all costs.By Natalie ShawRelease Date: 18/2/08Label: Cherryade





CD Times Review.....hilarious!
Ste Mccabe – Pink Bomb (CHERRYADE)
Manchester's political queer pop-punkster, it says here. Tell me if I've chosen to focus on the least important aspects here but … Ste ? What was wrong with Steve ? Every bloody two bob laddo seems hellbent on abbreviating his name into oblivion these days with this 'Ste' business. Not enough that your record sounds like Sigue Sigue Sputnik remixing their b-sides for a special anniversary release.



Lobster Quadrille Magazine Review....


When I say 'talented gay Mancunian punk' you probably think of Pete Shelley from the Buzzcocks, right? He is, after all, one of the best songwriters this country has ever produced. Well from now on start thinking Ste McCabe as well. This guy is the business.




Let's examine some of his songs. 'Huyton Scum' sets about taking some homophobe to pieces with a series of terrifically incisive couplets that put you in mind of a young Terry Hall at his most sardonic: "He don't like the women cos the women are all sluts, although he's barely touched one cos he hasn't got the guts". And even better, "he don't like the Irish, he don't like the blacks, when asked to join the BNP he said 'what's that?'"




Lyrics and vocal delivery are certainly McCabe's forte, but it would be remiss not to mention his undeniable way with a tune. 'Rant', for example - a swipe at little Englanders and the more moronic aspects of footballing culture - has a very catchy chorus. And 'One Step Too Far' shows a nice bit of musical variation, rather reminiscent of the pop-punk of Carter (The Unstoppable Sex Machine) – a great band I'd completely forgotten about until now.




McCabe is hampered a little bit by the use of a drum machine (a live drummer might add the final missing ingredient to his sound) and the production is a little too straight down the line at times. But hey, who gives a shit really? This is great.